Class III+ reverse pull mask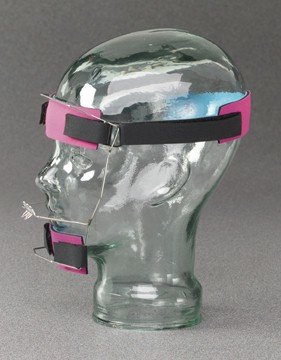 Class III+ reverse pull mask
Class III+ reverse pull mask

A comfortable reverse pull mask.

A mask which a patient can yawn or open their mouth …in comfort.

Class III+ reverse pull mask is designed to have the features you and your patient demand.

Class III+ reverse pull mask comes complete with a wire frame and set of three cushion straps (chin strap, forehead strap and head strap)

No sharp wire ends to poke patients.

No chin cup to irritate the patient's chin

Neoprene cushions flex. Back strap holds it securely into place. Tension adjustment is made with Velcro hook and loop materials.



Class III+ reverse pull mask made with Durable Wire Frame



Available in three sizes: small, medium and large

Bend it to contour to the patient's face.

Durable .075″ diameter Stainless Steel loop construction.

Loop construction means no sharp ends to poke patients during the night.

Stainless steel frame is durable and flexible.

Class III+ reverse pull mask available in these sizes and colors:
| | | | |
| --- | --- | --- | --- |
| Item numbers | Black | Blue | Pink |
| Small | C3SBK | C3SBL | C3SPK |
| Medium | C3MBK | C3MBL | C3MPK |
| Large | C3LBK | C3LBL | C3LPK |
Made in USA at our factory