OKC Neckpads assorted colors - cosmetic seconds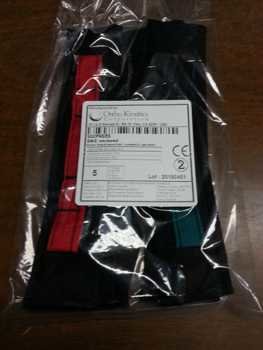 OKC Neckpads assorted colors - cosmetic seconds
Brand New Ortho Kinetics orthodontic headgear cushion neckpad cosmetic seconds
Item # SGCPAS5S - Black cushion with Assorted color module strap, pack of 5
These items are factory seconds with minor finishing flaws or visible seams. Items are fully functional for patient use.
The OKC brand cervical cushion is a Low profile Cotton wrapped cushion. It has breathable cotton cover with 1/8″ durable cushion material.

OKC neckpads are made with a cotton cushion wrap for breathable and washable comfort. The colored accent nylon module strap on the top is strong to prevent stretching. This makes the load bearing portion of the headgear more durable than others with cotton module straps. The module strap allows three module attachment locations. It can accommodate your smallest patients and largest teens all with one strap. The strong nylon color accent module straps are a nice contrast to the black cotton cushion wrap.
OKC neckpads cosmetic seconds are available as assorted color packs:
Colors will include an assortment of the following: Black, Blue, Pink, Purple, Red, Teal

5 neckpads per package
OKC neckpads feature three module attachment locations
Approximate Size: 7.5″x 1 5/8″ x 0.25″
You will receive an assortment of accent color module straps in each package.
A possible combination of black, blue, teal, pink, red and purple accent colors for the module strap.

Item is brand new from factory in sealed plastic bag.

5 neckpads per bag with black cushion and assorted color module strap.

These items are proudly Made in the USA
You are sourcing these items directly from the manufacturer.

These are factory seconds with minor cosmetic finishing flaws items for clearance.

This is cervical neckpad only. Not a complete headgear.

All sales final on these items.